Neighborhoods
Phoenix has many personalities. Essentially a consortium of individual communities, each with its own character, some neighborhoods of this sprawling metropolitan area retain a small town feel while others have landed feet first in the future. There is true diversity in and near the heart of Phoenix. Here is a glimpse into what makes different communities so desirable:
Urban living at its best, most eco-friendly and energetic can be yours along the Central Corridor closer to midtown. It might well be your choice if you want to walk or bike to work or for leisure, feel the need to be near "what's happening" and good eats, and love public rail. You'll find what you want here, from wine bars to coffee shops, shopping malls to funky shops, and you'll find single family homes in a myriad of styles as well as urban lofts in older buildings and high-rise contemporary condos. Have a price range in mind? Great options exist here for all budgets.
Central Avenue, running north-south through Phoenix proper, still retains a rural esthetic in its northern reaches, roughly defined by Missouri to Northern. It is a desirable and relatively pricey area, but its green beauty, mature trees, calm atmosphere, varied architecture, large lots, and proximity to everything that's important make addresses in the North Central Corridor some of Phoenix's most desirable. The area is recognized as a Special Planning District to protect its unique character, even though it has not been granted official historic designation. Here you'll find a wide variety of home styles, and we'll be happy to share our expertise with you about where to find what in this beautiful patchwork quilt of choices.
Historic Neighborhoods in Phoenix
Phoenix is not an old city, even though habitation in the area extends back millennia. What was to become modern-day Phoenix was laid out in 1870, but the state of Arizona only celebrated its first century recently. Phoenix has its share of historic neighborhoods, however, and if you're looking for character, you will find plenty of it in the territorial, adobe, Spanish Colonial, Tudor and California craftsman homes that still remain in these interesting communities.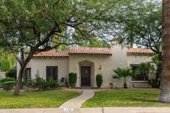 Greater Coronado comprises three neighborhoods: Coronado, Brentwood and Country Club Park. In mid-town Phoenix, this is where you'll find a wide range of styles, along with some new infill construction, and it's a lively, popular area to call home, with the advantages of a close-in location and easy access to freeways, public transportation, a myriad of small businesses, major hospitals and the arts district.
FQ Story dates to the 1920s as an upper-middle-class neighborhood, and it still retains a sense of "rightness" and charm. Architectural styles run the gamut from Tudor cottages to proper craftsman and traditional Spanish colonial. It's a manicured, graceful community. Can we show you around?
The homes of Encanto-Palmcroft are the result of the "City Beautiful" approach to urban planning. Small in size -- with fewer than 350 homes -- they are, however, situated on larger lots and many have beautiful views of downtown Phoenix. You might even find Cape Cod style homes or romantic versions of French country in this charming master-planned community that is sure to retain its charm. Home prices start at about $400,000.
Pierson Place Historic District feels more citified than many other parts of the city. It is an urban mix, with the city's first 17-story high-rise located here amid the wide variety of smaller homes that range from adobe to sturdy brick, to block or wood-frame, from ranch-style duplexes to older apartment buildings, from mid-century ranches to modern loft-style townhomes. There's public transportation (and more to come); there are restaurants and shops, tree-lined streets and a real community spirit. This is one of the most popular in-town communities, destined to remain a popular destination for anyone who enjoys a vibrant atmosphere just outside the front door!
Willo and Windsor Square represent two additional options for anyone looking for charm and location. Willo is known as one of the top ten cottage communities in the country. Its boundaries are from Thomas Road south to McDowell, from First Avenue West to Seventh. Windsor Square, located between Central and Seventh Street and bounded by Pasadena and Oregon, boasts wide, curving streets and larger homes that range in style from Tudor to Norman.
Looking East, Towards Camelback   
The Biltmore District, which stretches along Camelback Road, roughly between 20th and 32nd streets, takes its name from the iconic Arizona Biltmore resort. Lifestyles and home styles in this district have been favorably compared to Beverly Hills, with all the upscale amenities that conjures up, including shopping, restaurants, high-rise condos, upscale offices, posh entertainment and world-class resorts. Shopping is almost a way of life in the Biltmore area, with some of the best antique shops to be found in the Valley; if the past is not your passion, though, everything modern is available at Biltmore Fashion Park. Bargains are also available at stylish resale stores, so there is indeed something here for everyone. And then there's golf! In this area, you'll find estate homes, patio homes, high-rise apartments to rent, garden condos and townhomes adjacent to golf courses and lakes. If it sounds inviting, it is!
Do you want to have shopping, dinning, and a wonderful home but remain close to the urban hub of Phoenix?  The Camelback Corridor could be just the place you want to call home.  This convenient place to frequent and reside is located in the area of 32nd Street east to 44th Street and between Indian School Road north to Camelback Road.  Homes here generally range from the $300's to over $1M.
Further east you'll find Arcadia, with much of the same appeal on a bit more casual scale. The neighborhood is still home to some iconic, sprawling ranch homes hidden on large, landscaped lots, interspersed with modern luxury residences. You won't want for much, in terms of shopping and dining, although you may not love the traffic. You'll be joined by a mix of young professionals in addition to hip empty-nesters and relocating retirees, and you can easily get to all the attractions of Phoenix and Scottsdale, as well as getting out of town easily and quickly. The Phoenician Resort and The Royal Palms call Arcadia home as well. In addition, some of the original citrus trees still bear fruit, and the schools, part of the Scottsdale district, are exemplary.
Arcadia Lite is where you can indulge your passion for mid-century modern, if that's your preference. One of the best parts of life in this little jewel of a neighborhood, besides the appeal of the low-slung and still-stylish architecture of the 50s and 60s, is that it's a walkable area, with local eateries and tree-lined streets beckoning, promising a relaxed way of life. You'll find homes here priced between the mid-$300s to the lower $700s. You can feast, literally, on great restaurant options as well as on the mix of housing styles available in the various neighborhoods of Arcadia. A part of it is actually within the boundaries of Scottsdale, but access is equally as convenient to downtown Phoenix and Sky Harbor as to old-town Scottsdale. Much of Arcadia has a great family vibe, with good schools, biking paths along the Arizona Canal and plenty of recreational options.
Lower Arcadiahas the same east west boundaries as Arcadia proper but it follows south of Indian School Road until Thomas.  A revitalization of many homes is happening in front of your eyes.  A bit more affordable than Arcadia, a budget from the $300s to $900s will usually get the job done here.  Ready to take a tour?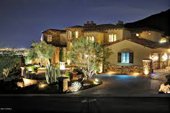 Paradise Valley began life as an agricultural paradise. Today, although those days are long gone, it is still considered a paradise in many ways. Traditionally known as the most affluent suburb of the Phoenix-Scottsdale metropolitan area, it is a destination in its own right, with eight premiere resorts within its boundaries, including the famed Camelback Inn. The area is almost entirely residential and brings to mind some of the more exclusive aspects of large estate living think Bel-Air compared to Los Angeles. It is a unique enclave nestled between Phoenix proper and Scottsdale. 
Farther East To Scottsdale  
Imagine a city built on the pillars of shopping, dining, nightlife, and great life-style and you will conjure up Scottsdale. But it's greater than the sum of those parts. Scottsdale has a well-developed arts focus, a friendly Western vibe, numerous golf courses and recreational opportunities, and seemingly limitless ways to enjoy life. Its neighborhoods and public areas are pedestrian-friendly; its residents are health-conscious and family-oriented, and local business thrives.
Add in a range of housing styles and prices and you'll have Scottsdale, bounded by "sisterly" Phoenix and Paradise Valley to the west, Tempe on the south, the Fort McDowell-Yavapai Nation and the Salt River-Pima Maricopa Indian Community to the east. Scottsdale, now with a population of about 200,000, has grown northward into former open spaces characterized by stunning topography and featuring a variety of master-planned developments. Carefree and Cave Creek are near the northern fringes. It's all rolled into one delightful "small town" that lives large in all ways.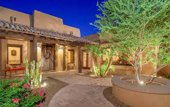 Scottsdale's Central Corridor is the "spine" of the city, stretching west to east from Old Town and leading to North Scottsdale. Here are three of the city's favorite traditional golf clubs as well as destination resorts, the Shops of Gainey Village, the wildly popular Handlebar J for live music, Westworld of Scottsdale, and the kids' favorite McCormack-Stillman Railroad Park with carousel and miniature train. Scottsdale's busy corporate jet airport is here, or follow a trail into the McDowell Sonoran Preserve, to get away from it all on foot, on horseback, or my motorbike. If what you're seeking is modern convenience in a relaxed semi-urban environment, this could be your perfect choice.
Old Town Scottsdale is enticing, and not only because you can park your car and take advantage of the year-round free trolley to whisk you from shop to restaurant to art museum to performance hall. Civic Center Park and the Scottsdale Waterfront are not only beautiful, but they anchor one of the best arts districts in the nation; the city's public art program is complemented by a regular Tuesday gallery walk. Shop till you drop at Scottsdale Fashion Square or on "Fifth Avenue" and then head to a favorite restaurant or club, all within a compact easy-to-explore few blocks. Want to live in this established part of the city? You may have to be diligent and patient, but we can help you find your perfect home.
Scottsdale, particularly North Scottsdale, is a tourist mecca as well as a desirable "home place." Choose a golf-course patio home, a modern condo, a multi-million dollar estate with lakeside location, a modest cottage in an established neighborhood or a multi-acre spread nestled into a guard-gated mountain community. We keep our fingers on the pulse of this vibrant area and we'll be happy to serve as your guide. Schools are among the best to be found, crime rates are low, and the sun shines nearly every day.
The world-renowned Barrett-Jackson automobile auction is held here, Western Days in the spring celebrate local heritage, and shoppers throng to Kierland Commons and Desert Ridge Marketplace. Frank Lloyd Wright's Taliesan West is a neighbor, as well as the famous Heard Museum. You can golf daily, explore the desert by Jeep, Hummer or hot air balloon, or be out enjoying life at almost any hour.
Fountain Hills: What can we say about this east-of-Scottsdale community except that it's fantastic. From its incredible 30-year-old fountain in the middle of a large man-made lake, to its community spirit and foodie culture, annual balloon festival and yearly parties -- including a St. Paddy's celebration during which the fountain spews green water skyward -- this is an exuberant, lively, lovely place to live, work, party and play golf. Ask us about current listings in this popular, established neighborhood that celebrates its desert landscape and sweeping views that include Superstition Mountain.
Further From Center   
Four separate cities are clustered to the southeast: Tempe, Mesa, Gilbert and Chandler are, in effect, four quadrants of a large, loose circle south of Scottsdale. Each is uniquely appealing.
Tempe, of course, is the home of Arizona State University and full of young people who are full of life. It is a college town, to be sure, with interesting shops and casual eateries, bars and clubs. It is lively day and night, and living here can be great fun! As in any university community, there is a mix of housing in Tempe, and population swells during the school year. The University Park historic district was recently approved for a community tree-planting project -- residents hope they'll grow quickly.
Mesa is a great place for techhies, as well as a great place to live for anyone who enjoys natural surroundings and being out-of-doors. There are golf courses, lakes and rivers, sports courts and hiking trails, and plenty of special events and community activities. In addition to being the home of the Mesa Arts Center, it is the third-largest city in Arizona in land area -- plenty of room here to grow!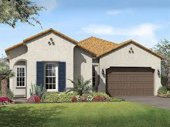 In Gilbert, you can live modern life as a farmer or just shop for fresh produce and locally-produced foodstuffs at Agritopia's Farm Stand. This community prides itself on its interpretation of the new ruralism, and if you're looking for friendly neighbors, down-home goodness and a refreshing reality that's still close to the big city, this might just be your utopia.
The final quadrant of this group is Chandler, which has enjoyed a bit of a renaissance over the past decade, including a new-found spirit and a facelift of its downtown area. The town was founded back in the days of Arizona Territory by a veterinary surgeon who lent it his name and defined its borders. Its limits have now been reached, so it is expected that its growth will slow in the future, and that the town will retain his historic character, particularly in its central plaza and park. It boasts Intel and Bank of America as major employers.
West From Center 
To the west lie Glendale, Peoria, Surprise, Litchfield Park and Sun City, many are popular with seniors and part-time residents looking for friendly surroundings, a variety of amenities and attractions nearby, and easy lifestyles a little further from workaday pursuits and the hustle and bustle of city life. They are not necessarily oriented around golf courses and leisure time, but they do offer a choice for those who are looking for laid-back and comfortable. If resort-style living in pretty surroundings with compatible neighbors is the direction you would like to move, we can show you the best of what's available.